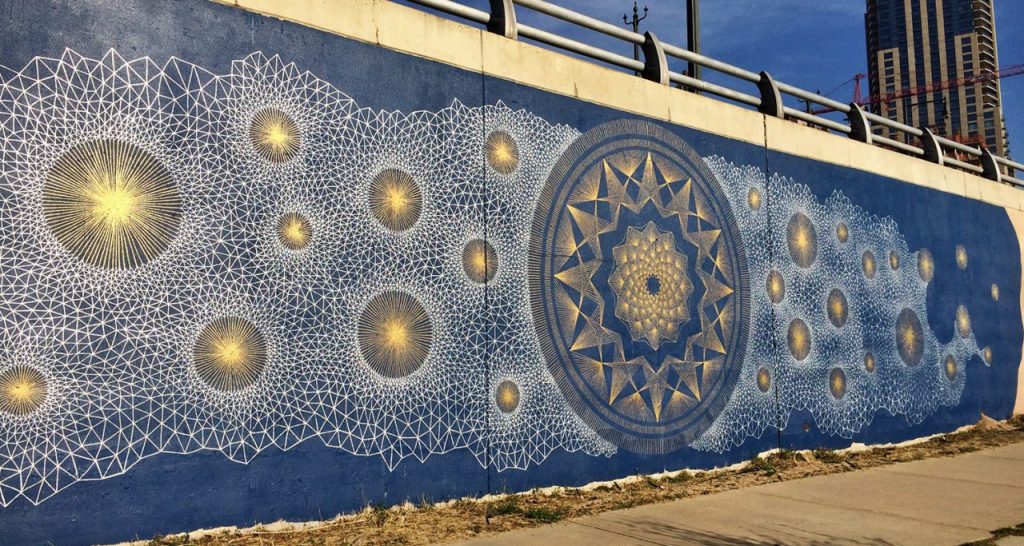 When

May 19, 2019 at 11:00 am

June 23, 2019 at 11:00 am

July 28, 2019 at 1:00 pm

August 18, 2019 at 11:00 am
About This Tour
The popular and free Denver public art bicycle tours return. The tours will last approximately two hours, with a distance of almost three miles along the Cherry Creek Bike Path. Tour highlights include all the murals along the Cherry Creek Bike Path from Confluence Park to 11th Ave. and Speer Blvd.
*All participants are required to wear appropriate safety gear, including a helmet. Participants must sign a release form and will need to provide their own bike, water, food and repair kits.
May 19, June 23 and Aug. 18 tours by Public Art Docent, Keith Outcelt.
July 28 tour led by Denver Public Art Administrator, Mary Valdez.
The tour meets at the plaza below the Starbucks and REI building in Confluence Park, near the "Sing and Glide" public artwork. *note, Sing and Glide is not an Urban Arts Fund mural, but part of the Denver Public Art collection.
(Limited to 15 people) RSVP. This event is FREE and open to the public.
For Spanish Translation Services: Brooke.Dilling@denvergov.org
For Sign Language Interpreter or Cart Services: signlanguageservices@denvergov.org
For Other Disability Accommodations: disabilityaccess@denvergov.org
Register For This Tour