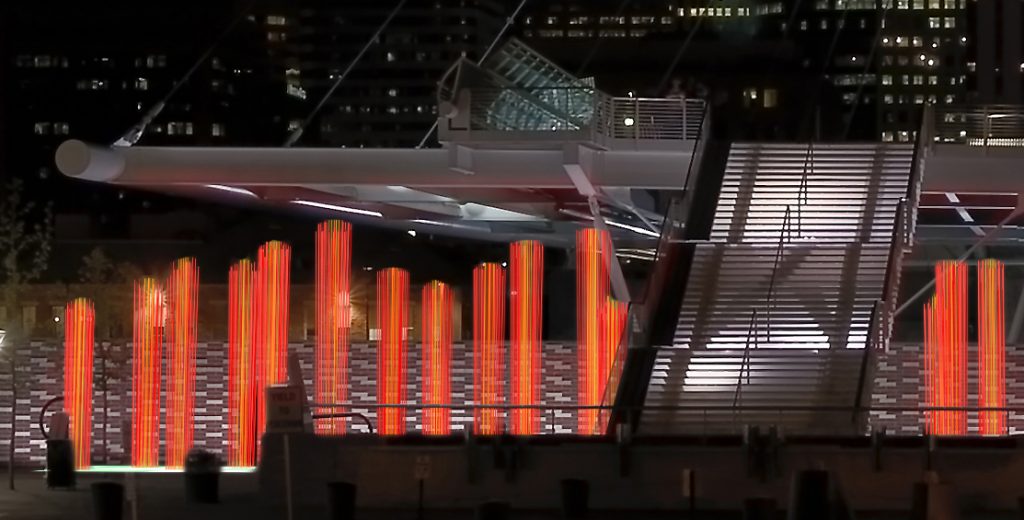 When

May 26, 2019 at 10:00 am

June 9, 2019 at 10:00 am

July 14, 2019 at 10:00 am

July 21, 2019 at 11:00 am

August 18, 2019 at 10:00 am

September 15, 2019 at 10:00 am

October 27, 2019 at 10:00 am

November 3, 2019 at 1:00 pm
About This Tour
This tour visits several public artworks in the Confluence Park starting at "Sing and Glide" near the Starbucks/REI store. The tour then travels over the confluence of the Platte River and Cherry Creek, visiting numerous murals along the way. The tour ventures past the Denver Museum of Contemporary art and crosses Millennium Bridge before returning to Confluence Park. There are more than 12 artworks to see on this tour!
The tour will meet just below the Starbucks/REI store at the artwork: Sing and Glide.
May 26, June 9, July 14, Aug. 18, Sept. 15, Oct. 27 and Nov. 3 tours will be led by Public Art Docent, Jen Chang.
July 21 tour will be led by Public Art Docent, Keith Outcelt.
November 3 tour presented in conjunction with Denver Arts Week.
For Spanish Translation Services: Brooke.Dilling@denvergov.org
For Sign Language Interpreter or Cart Services: signlanguageservices@denvergov.org
For Other Disability Accommodations: disabilityaccess@denvergov.org
Register For This Tour