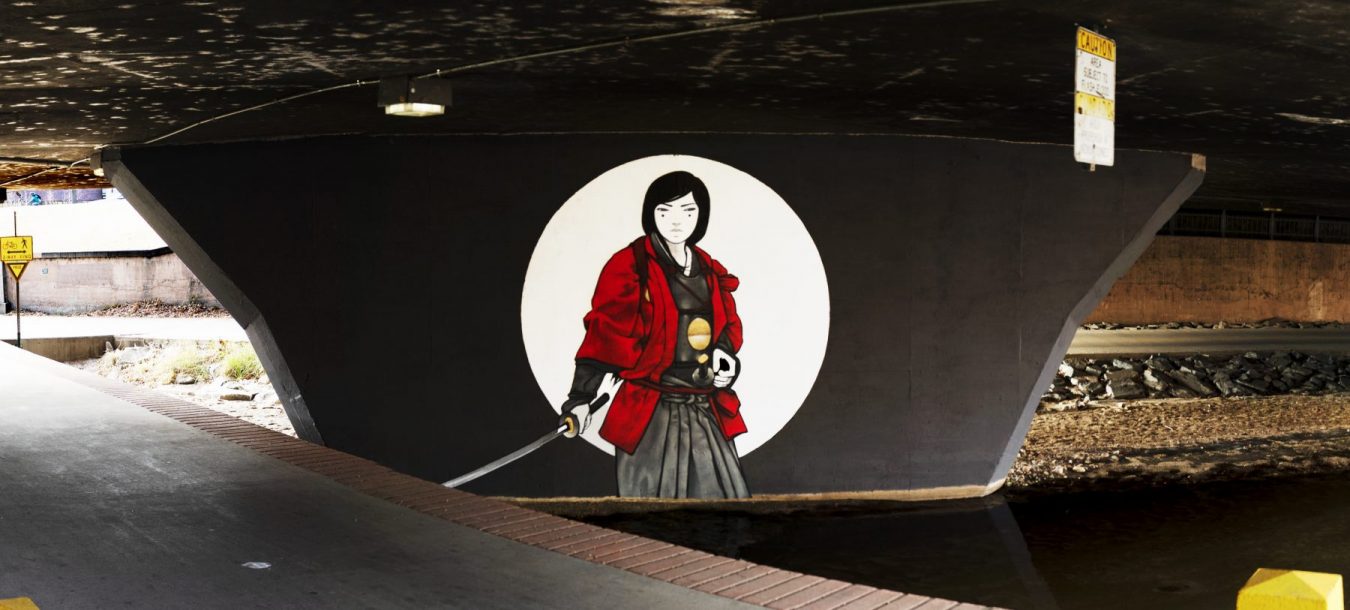 About This Tour
To celebrate Asian Pacific American Heritage Month, we've compiled works in the Denver Public Art collection by artists from these ethnic groups and celebrating these cultures. Scroll down to plan your route on our interactive map.
Denver Public Art pieces by Asian and Pacific Islander Artists 
On this self-guided tour, you'll find many examples of street art and stunning sculptures. You may be surprised to learn the story behind some of these works! Yuan Xiao-cen's "Good Fortune is Here to Stay" was a gift from Denver's sister city Kunming. Miki Iwasaki's "Mine Craft" represents the State of Colorado's mountainous topography and our rich mining industry.
Chad Hasegawa, "Bicycle Traffic"
Miki Iwasaki, "Mine Craft"
Casey Kawaguchi, "Mastery" (featured in the cover photo)
Casey Kawaguchi, "Evans Bridge Project"
Tatsuo Miyajima, "Engi"
Mon and Sense (Yoshinori Sakamaki, Kotaro Ooyama), "Thunderbird"
Ratha Sok, "Arts of Mind"
Ratha Sok, "Que Sera"
Ratha Sok, "Grandmother's Tea"
Ratha Sok, and Natalie Mauritz "Untitled"
Ratha Sok and Bimmer Torres, "Create Change"
Shan Shan Sheng, "Swimming Under the Tree" and "Autumn Leaves"
Thien Tai, Bimmer Torres and Ratha Sok, "Untitled"
Yuan Xiao-cen, "Good Fortune Is Here to Stay"
Denver Public Art Representing AAPI Cultures & People
Milt Erickson, "Antique Chinese Sundial"
Emanuel Martinez, "Eyes on the Park"
Leo Tanguma, "Children of the World Dream in Peace"
Leo Tanguma, "In Peace and Harmony with Nature"
Tsogo Mijid, Eriko Tsogo, and students of Uran Biir Colorado Mongolian Art School, "The Four Harmonious Friends of Colorado"
Arts & Venues Projects featuring AAPI Artists
These projects were created through programs outside of the public art program.
Go deeper into Asian and Pacific Islander Art and Culture in Denver
Create your own tours on denverpublicart.org.