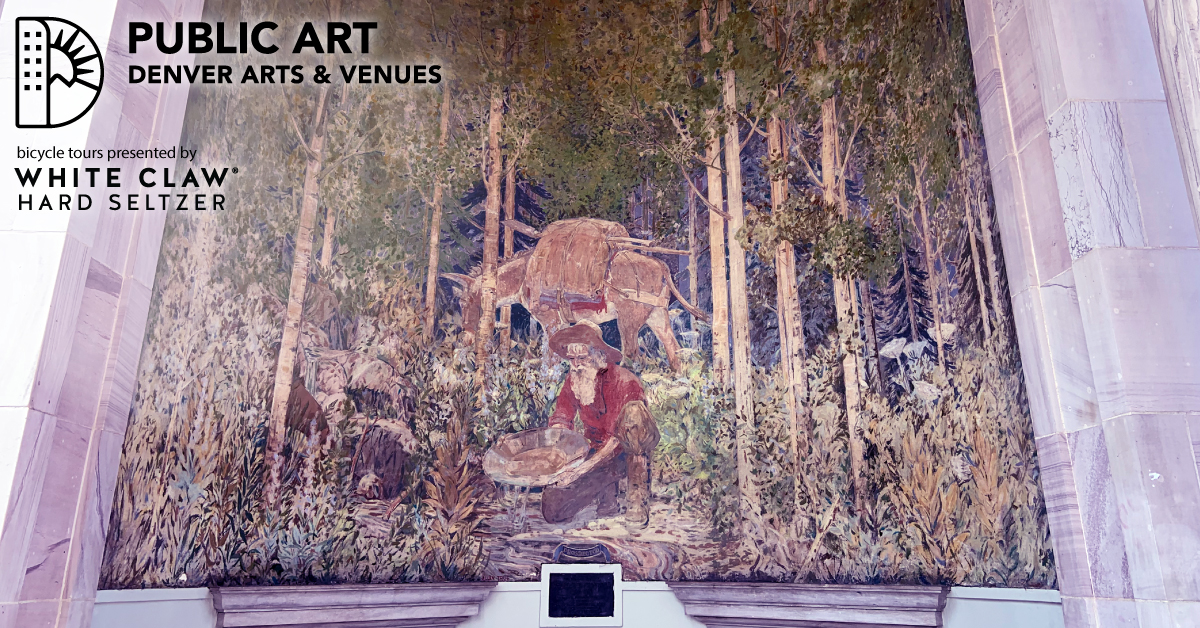 When

June 22, 2023 at 3:45 pm

July 20, 2023 at 3:45 pm

August 3, 2023 at 3:45 pm

August 24, 2023 at 3:45 pm
About This Tour
White Claw Hard Seltzer is pleased to be the presenting partner of Denver Public Art Bicycle Tours.
Led by Public Art Maintenance and Conservation Coordinator, Erica Garcia, this tour's highlights include historic murals by Allen Tupper True, an American illustrator, painter and muralist famous for his depictions of the American West. In addition to the murals, the tour will showcase some of Denver's most historic architecture spanning from 1892 to 1932. Since the tour includes spaces inside these buildings, tour participants must bring working bike locks to secure their bicycles outside the buildings.
The tour will last approximately 2.5 hours, with a distance of almost two miles making use of available bike routes and paths. Tour participants will meet at Denver Performing Arts Complex Galleria near the Botero sculptures, "Man" and "Woman." Tour leaves at 4 p.m. sharp!
Optional! Hang out with your fellow tour-goers for a cocktail or mocktail at the Teller Bar at the Colorado National Bank Building at the tour's end.
$5 per person. Children under the age of 16 must be accompanied by an adult. No cost for children 10 and under.
Tours are rain or shine, however should conditions become dangerous because of severe weather, Denver Public Art reserves the right to cancel or delay/pause the tour. If any tour is canceled before it is 50% complete, we will reach out to you to offer tickets to an upcoming date or a refund.
*All participants are required to wear appropriate safety gear, including a helmet. All participants must agree to a release and waiver of liability, adhere to safety and health guidelines, and will need to provide their own bike, helmet, water, food and repair kits.
Want to know more about events like this? Sign up for our mailing list at https://signup.artsandvenuesdenver.com/denver-arts-and-venues.html
For Spanish and other Interpretation Services: Amber.Fochi@denvergov.org
For Sign Language Interpreter or Cart Services: deafhhservices@denvergov.org
For Other Disability Accommodations: disabilityaccess@denvergov.org
Register For This Tour