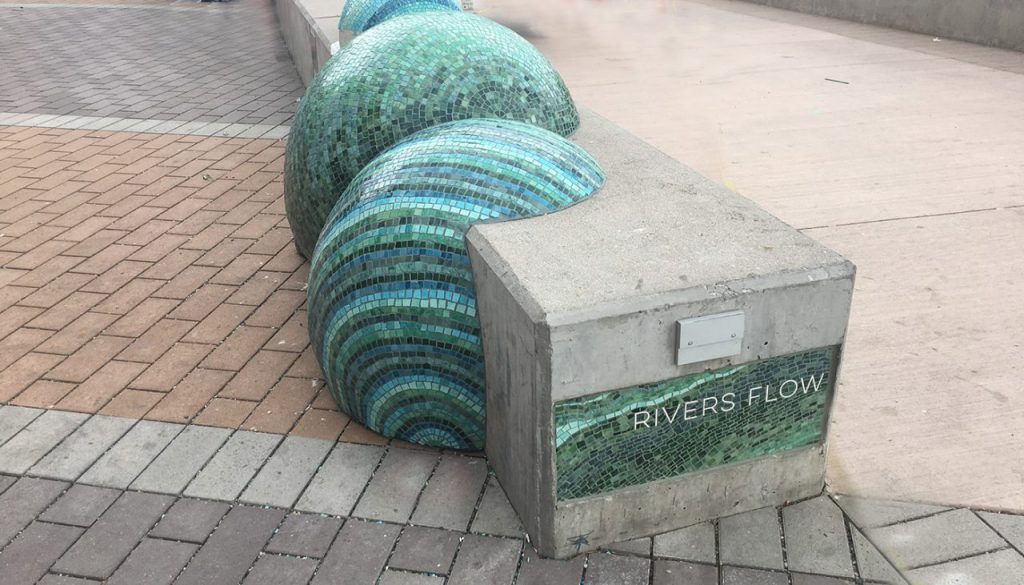 Please join Denver Public Art July 6, 10 a.m. at Shoemaker Plaza in Confluence Park as we dedicate Jeanne Quinn's "Sing and Glide" into the Denver Public Art collection.
"Sing and Glide" was inspired by the confluence of South Platte River and Cherry Creek and the confluence of two urban "rivers," Fifteenth Street and Speer Boulevard. The artwork includes mosaic text of the poem by John Muir – "Rivers flow not past, but through us; tingling, vibrating, exciting every cell and fiber in our bodies, making them sing and glide" – drawing people from the top of the plaza to the banks of the river, as well as sever large concrete "bubbles," also covered with glass mosaic at the top of the ramp. The bubbles join together in playful groupings encouraging people to rest for a moment while enjoying the river and the park.
In addition to remarks from Jeanne Quinn and a reading of the poem, speakers will include Denver Arts & Venues Executive Director, Kent Rice; Denver Parks & Recreation Executive Director, Happy Haynes; and Greenway Foundation Executive Director, Jeff Shoemaker, after whose father the plaza was named.