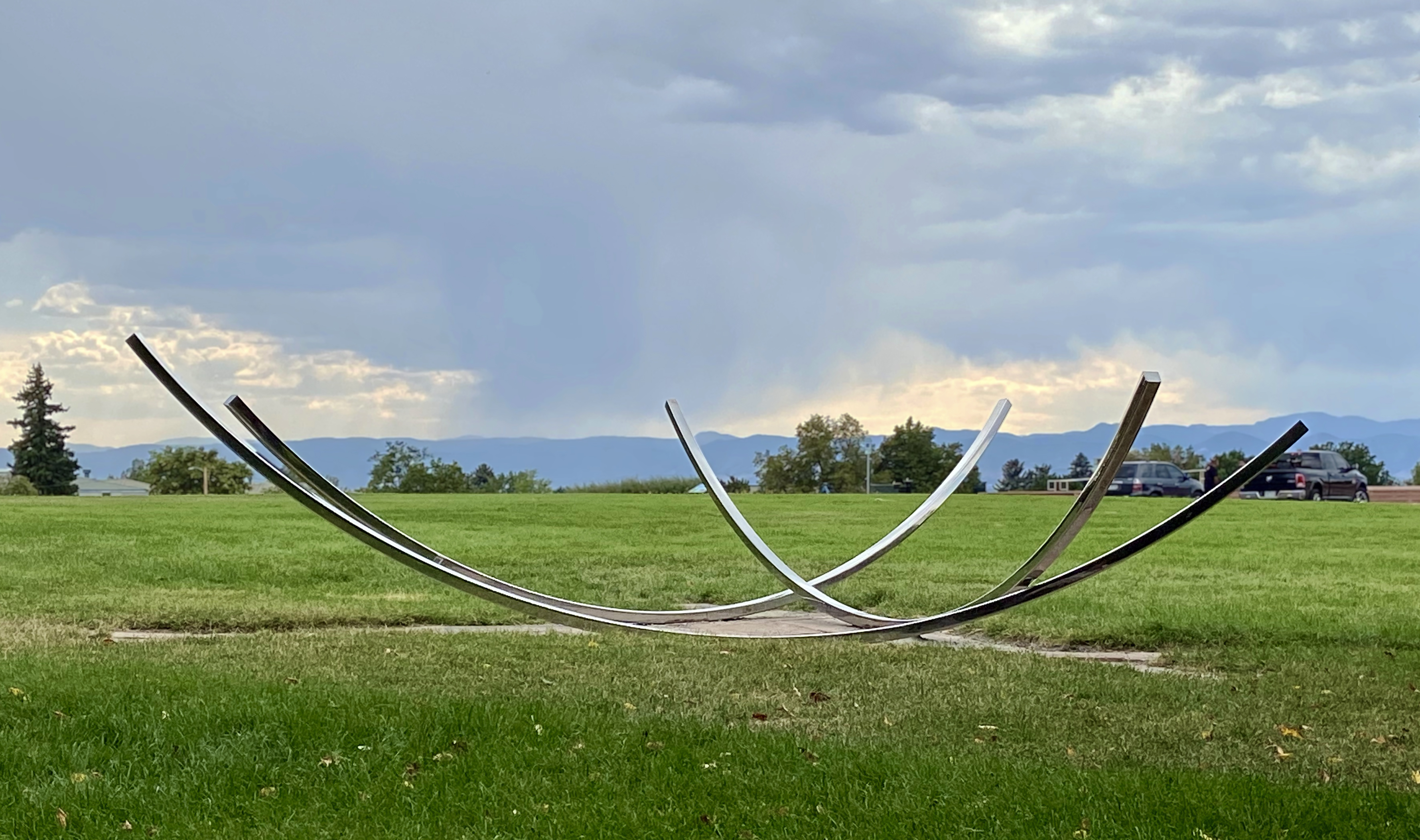 Denver Arts & Venues is pleased to announce the completion of three new pieces in the Denver Public Art collection – "Leaf" at the Denver Botanic Gardens, "Bows" in Cranmer Park and "Community Nature Dance" in Westwood Park. 
"Despite our difficult economy, Denver Public Art is not slowing down," said Denver Public Art manager Michael Chavez.  "Our three recently completed projects were started long before we started to see the impacts of the COVID-19  pandemic, but the city has reiterated its commitment to continuing capital improvements, and many of those new  projects will also have public art components." 
Established in 1988, the Denver Public Art ordinance dedicates 1% of all City and County of Denver capital improvement  projects to the creation of new public art. With nearly $1B in construction and improvements tied to the Elevate Denver  Bond, Denver Public Art expects to continue to commission new works, recently opening calls for qualifications for the  Denver Art Museum/Denver Public Library campus project and Congress Park pool and playground project. 
"We have approximately 60 public art projects in the works right now, in various stages from early design all the way to  fabrication and installation," continued Chavez. "We are so excited to see 'Leaf,' 'Bows' and 'Community Nature Dance'  completed." 
Leaf 
In celebration of the art and science collections housed in the Denver Botanic Gardens' Freyer-Newman Center, this back lit steel sculpture created by Jason Klimoski and Lesley Chang blends the beauty of nature with the rigor of scientific  inquiry. Each of its 251 cells contain a silhouette of a Colorado native plant specimen held by Denver Botanic Gardens'  Kathryn Kalmbach Herbarium. Included is the identification number of that specimen, which allows anyone in the world  access to information about the plant, including its scientific name and where it was collected. Each specimen is a  snapshot in time, capturing the biodiversity of a particular place and creating a permanent record of the past that serves  as a resource to help protect our future. 
Bows 
Artist Patrick Marold used stone and steel to create arching lines of light and space, complementing and enhancing how  the public sees and engages with the landscape. With additional funding from The Park People, this artwork at Cranmer  Park was created to enhance the panoramic perspectives of the front range and sky. Located on the eastern edge of the  park, trees line public passageway from the neighborhood and frame the artwork for visitors. 
Community Nature Dance 
In 2018, The Trust for Public Land with support from the Gates Family Foundation collaborated with Denver Arts &  Venues and the community to commission unique artwork for Westwood Park that reflects and celebrates the diversity  and culture of the Westwood community. The stainless-steel sculpture created by Lisa Cameron Russell features  mariachi, flamenco and butterfly elements. 
To learn more about these and other works in the Denver Public Art collection, please visit DenverPublicArt.org.
About Denver Arts & Venues 
Denver Arts & Venues' mission is to amplify Denver's quality of life and economic vitality through premier public venues, arts and  entertainment opportunities. Arts & Venues is the City and County of Denver agency responsible for operating some of the region's most  renowned facilities, including Red Rocks Park and Amphitheatre, the Denver Performing Arts Complex, Colorado Convention Center, Denver  Coliseum and McNichols Civic Center Building. Arts & Venues also oversees the Denver Public Art Program, Create Denver, SCFD Tier III  granting process, Arts Education Fund and other entertainment and cultural events such as the Five Points Jazz Festival, Urban Arts Fund, P.S.  You Are Here and implementation of IMAGINE 2020: Denver's Cultural Plan. Denver Arts & Venues is committed to diversity, equity and  inclusiveness in all our programs, initiatives and decision-making processes. 
About Denver Public Art 
Denver's Public Art Program was established in 1988 as an Executive Order under Mayor Federico Peña. The order, enacted into Ordinance by  Denver City Council in 1991, directs that 1% of any capital improvement project over $1 million undertaken by the City, be set aside for the  inclusion of art. Over the past 30 years these artworks, along with the historic and donated works of art, make up the City's Public Art  Collection. The Public Art Collection has expanded the opportunity for Denver residents to experience art in public places. www.DenverPublicArt.org 
About Jason Klimoski and Lesley Chang 
STUDIOKCA is an award-winning architecture and design firm led by Jason Klimoski and Lesley Chang based in Brooklyn, New York with  projects ranging in scale and complexity from lighting fixtures and interiors, to public installations, sculptures and buildings in New York,  Vermont, Nevada, Wisconsin, Brazil, Taiwan, and Papua New Guinea. The practice explores the ways in which context and locality offer  
opportunities to design and create objects and spaces that respond directly to the demands of their programs and site-specific environmental  conditions. With each project, we are interested in how materials can be crafted or purposed to solve a problem, shape a narrative, create a  sense of place, and offer a unique solution that resonates with our clients and their sites.  
About Patrick Marold 
Patrick Marold has been working on binding the physical environment with our perceived orientation for over two decades. He was born and  grew up in Wheat Ridge and has been connected with the local arts and cultural scene throughout his life in Colorado. Since earning a BFA  from Rhode Island School of Design in 1997, his artistic development has maintained an intimate connection to the landscape, extending the  environmental traditions unique to post-minimalism and working site specifically. Refinement of his practice has been pursued in various  locations in America and abroad, including opportunities like that of his early Fulbright Fellowship in Iceland, where he began to more fully  direct his energies to create works that utilize spatial dynamics to generate an enhanced perception of light and movement. Exhibiting widely  in galleries and museums, he has earned multiple awards and recognition for his studio works as well as his publicly sited projects. In the last  decade, he has completed numerous public commissions, including the 7-acre installation, Shadow Array, at Denver's International Airport.  Marold maintains a studio in the front range of Colorado and continues working towards sculptural statements that impact on our personal  and communal perception. 
About Lisa Cameron Russell 
Creating public projects for over 20 years, Lisa strives to create art that brings as much joy to the community it belongs to as the experience of  creating it does for her. She approaches public projects by respectfully engaging and accenting the surrounding environment. Her goal is to  build creative placemaking that combines both abstract and realistic elements and engages the largest audience possible by referencing  historical and timeless features.  
About The Park People 
The Park People works to preserve, enhance, and advocate for Denver's parks, recreation resources, open space, and urban forest. We pursue  this mission by raising private funds for park enhancements and capital projects, like the reconstruction of the Cranmer Park Sundial & Plaza. theparkpeople.org 
About Trust for Public Land 
The Trust for Public Land creates parks and protects land for people, ensuring healthy, livable communities for generations to come. In  partnership with Denver Parks and Recreation and Westwood Unidos, The Trust for Public Land worked with the Westwood community from  2014-2018 to transform Westwood Park through a complete park renovation.  
www.tpl.org