About This Tour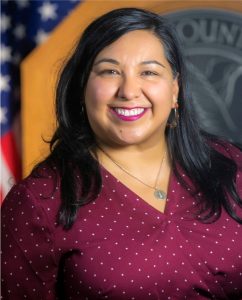 Councilwoman Jamie Torres took office as the Denver City Council Member representing District 3, Denver's westside, on July 15, 2019.
Jamie's roots are directly in the west Denver community where she and her husband currently call home. She is a third-generation Denverite, her grandmother was born in a small house in the Curtis Park neighborhood and grew up in the old Auraria Neighborhood and her grandfather grew up in Sun Valley. Her family moved to Villa Park in the 1960s where Jamie has now lived for over 30 years. It is her home and the community is her inspiration.
Jamie is a community advocate and community connector to her core. Prior to being elected, Jamie spent 18 years in the Human Rights & Community Partnerships Agency (HRCP) in the City and County of Denver where she helped ensure Denver is focused on the civil rights, human rights, and social justice needs of its residents. Jamie was both Deputy Director of the Agency and Director of the Denver Office of Immigrant & Refugee Affairs, an office she started in 2005 because she saw a need for greater immigrant inclusion. Over the years in working for local government, Jamie worked directly on issues of poverty, equity, food insecurity, community and civic engagement, immigrant integration, and approaching innovative ways of direct leadership development in underrepresented communities.
Jamie is committed to representing the incredible community of District 3, advocating for key services and amenities that impact our quality of life, and ensuring the city delivers on its commitment to equity for the good of our collective future.
Follow along Councilwoman Torres' Public Art Tour, which includes murals and sculptures that are well known in each neighborhood.