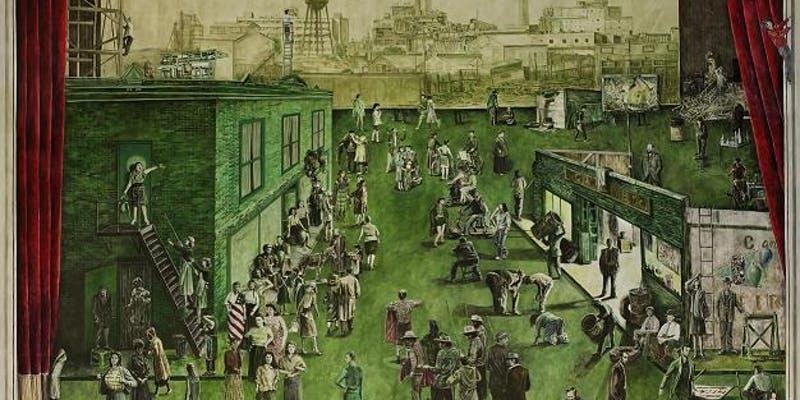 When

May 26, 2019 at 1:00 pm

June 2, 2019 at 10:00 am

June 16, 2019 at 10:00 am

July 7, 2019 at 10:00 am

August 11, 2019 at 10:00 am

August 18, 2019 at 1:00 pm

September 1, 2019 at 10:00 am

October 13, 2019 at 10:00 am

October 20, 2019 at 10:00 am
About This Tour
The Denver Performing Arts Complex is one of the most impressive performing arts centers in the world, featuring 10 performance spaces connected by an 80-foot-tall glass canopy with world-class art to match. Participants will learn about Stephen Batura's epic mural "Rehearsal" in the Ellie Caulkins Opera House, with all of its fascinating characters and scintillating stories. John DeAndrea's hyper-realistic sculptures will make you look twice – are those ballerinas breathing? Get a new perspective on Jonathan Borofsky's "Dancers" in Sculpture Park at Denver Performing Arts Complex by standing directly underneath the 60-foot sculptures and listening to the music composed by the artist himself to accompany the dancing giants.
May 26 and Aug. 18 tours will be led by Public Art Docent Djamila Ricciardi.
June 2 and 16, July 7, Aug. 11, Sept. 1, Oct. 13 and Oct. 20 tours will be led by Public Art Docent Vicki Hellmer.
For Spanish Translation Services: Brooke.Dilling@denvergov.org
For Sign Language Interpreter or Cart Services: signlanguageservices@denvergov.org
For Other Disability Accommodations: disabilityaccess@denvergov.org
Register For This Tour